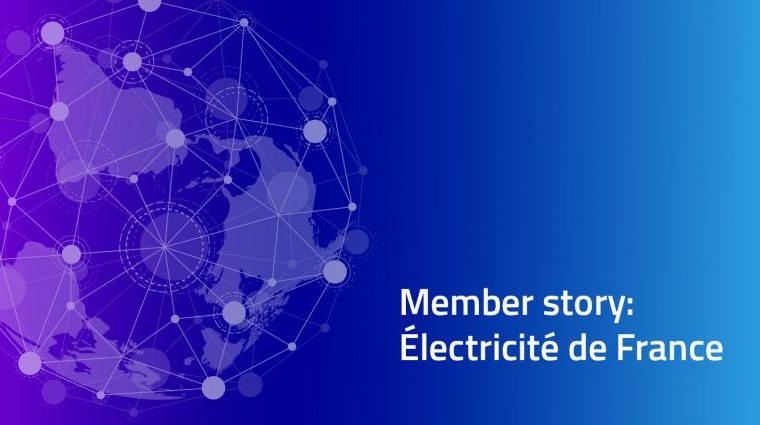 At Gaia-X, established large companies rub shoulders with young start-ups. State institutions, associations and research institutes support the project with their expertise. One of the members of the Gaia-X Association is Électricité de France (EDF). We spoke with Martine Gouriet, Digital Uses Director at EDF, about her involvement within Gaia-X. She is a member of Gaia-X' Board of Directors and leader of the Data Space working group "Energy".
Martine, how can the energy sector, and EDF, benefit from Gaia-X?
For all energy companies and more specifically for EDF, the stakes linked to digital are at the core of the activities. For our main industrial projects, for the development of new services as well as for the digital transformation of the company, we need a trusted environment, based on a shared set of values (transparency, interoperability, and security).
We joined GAIA-X as our response to this strategic need, with two convictions:
First, that the alignment of the stakeholders and the robustness of the needs are expressed jointly, meaning that the stage is set for the development of a trusted cloud ecosystem.
Second, that Europe is the right level scale to achieve this and that we will succeed by federating all stakeholders (cloud and infrastructure providers, users, academics…).
This is what has driven us from the start in our participation in GAIA-X as well as founder member and then, in the creation of an Energy data space.
Can you give a concrete example of the added value that Gaia-X can bring to the energy sector?
In all the value chain of our industry, data is key. Generation, operation, distribution, transport, new services, everywhere, we need to exchange data between different players on a trusted and secured way.
For example, in the field of electromobility which is key for the future of our industries, we need to develop Energy vehicles energy roaming, new services, charging point and distribution points investment & planning. Another example is the day-to-day collaboration of all the companies working in this industry both to operate the existing plants and to develop new plants. A third example is the development of renewable energies and the key points of the description of its assets for preventive maintenance. To succeed, we need to exchange data in a very secured way, and we need to rely on a trusted cloud.
Besides the benefits for your company, why are you personally involved in Gaia-X?
I personally have always thought that we are lucky to leave in Europe and furthermore in the European community. It is often tough and difficult to discuss between 27 members but in the end, you always build some good compromise, and you can go further. On the contrary, when you are at the level of your own country such as France – even if France is a beautiful and big country! – it is much more difficult.
Furthermore, I think that the biggest challenge of the 21st century that we have to face is global climate change and that we have to build a better and sustainable future for the next generations. This commitment is perfectly in line with the "raison d'être" of EDF Group, which is to build a net zero energy future with electricity and innovative solutions and services, to help save the planet and drive wellbeing and economic development. I'm very lucky to work on both major transitions of our time: digital transition and energy transitions!
You have two functions at Gaia-X: in the Board of Directors and in the Data Space Energy. What is the biggest difference between these roles?
In the board of directors, I work for all the sectors on a transversal way and we are fully committed, with all the directors, to give the right direction to the association so that Gaia-X delivers and gives value to all its stakeholders. In this role, I'm leading a small task force related to the "Gaia-X labels". Labels and their different level and definition are key subject for the association.
In the dataspace energy, I work with all the energy actors (energy companies, small or big, cloud providers, technological companies, academics) so that we build a common vision of our dataspace with use cases that brings value to the energy sector.
What do you enjoy most about your work for Gaia-X?
I enjoy working with several actors coming from different countries, different sectors, different backgrounds and trying to build together a strong project with great ambition. What is quite strange is to work with them only on digital and I'm very happy because, in September and October, we will eventually meet!
You have many years of experience in the energy and telecommunications industry, with expertise in technical innovation. What important insights do you take with you from your work there for Gaia-X?
The most important insight is that a project is what the teams want it to be and that the future is not written in advance, you have to make it, together with a strong team that is willing to innovate. The second important insight is that you are better when you create and innovate together even if it is more complicated.
Where do you see Gaia-X in three years?
I see several dataspaces in the main sectors of Europe delivering value and especially in the energy sector. I also see the cloud providers having built a safe, secured, sovereign and transparent infrastructure with different levels of labels.
---
About Martine Gouriet:
Martine Gouriet is Digital Uses Director of Électricité de France (EDF), a position she has held since 2019. Martine is also IT Group Director Delegate, and, in this role, she is leading EDF digital workplace projects. Before 2019, she was Director of IT and Telecom Shared Services of EDF, having under her responsibility around 2000 collaborators. Previously, she was leading EDF subsidiary Edelia which is specialized in energy efficiency and smart grids. She has started her career within Orange, a French Telecom company where she has worked 17 years, assuming marketing, innovation and technical roles. During this period, she has notably launched the first French offer of IP TV. Martine Gouriet has developed strong skills in innovation, launch of new services and technical expertise. She is graduated from "Ecole Polytechnique" and from "Telecom Paris Tech". Martine Gouriet joined Gaia-X in 2019 as Head of the Data Space working group "Energy", which formulates domain-specific requirements for the Gaia-X architecture. She was recently re-elected to the Gaia-X Board of Directors as one of 24 members.
Interested to contribute to Gaia-X? Then get in contact with us at info@Gaia-X.eu