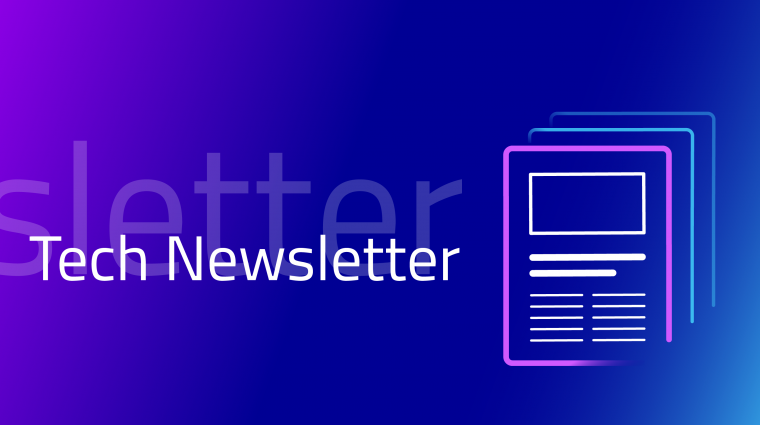 Tech Monthly Newsletter
ISSUE #3 – 1 April 2022
Dear Tech Community,

Here is our latest Gaia-X tech news.

This month we share with you an overview of:

✔️ New Video: The Gaia X Trust Framework
✔️ New Video: Verifiable Credentials Flows
✔️ Asset Administration Shell and Gaia-X
✔️ Data Exchange services
✔️ Portfolio Request Management

✔️ Tech Deep Dives

📢 The Trust Framework

============================

🎞️ 📷 The Gaia-X CTO Pierre Gronlier walked you through an interesting twelve-minute video introducing you to the Gaia-X Trust Framework, the Gaia-X ecosystem, reflecting on the importance of digital autonomy. Wishing to learn more about it?

💻Slides are available here: https://community.gaia-x.eu/index.php/f/14351306.

🔥Check out all about the Gaia-X trust framework here:

https://gaia-x.gitlab.io/policy-rules-committee/trust-framework/

📢 Verifiable Credentials Flows

===========================

🎞️ 📷 On this three minute video, we can all learn a bit more about the concept surrounding Verifiable Credentials, practically describing how  to create a Gaia-X compliant Self-Description. Is this of interest?

Check the slides here!

📢 Industry 4.0: Asset Administration Shell and Gaia-X 

============================

Industry 4.0 is becoming the core element of digital value creation for industrial applications, and so the AAS and Gaia-X information models will help as bridge between a tangible asset and IoTworld.

The Asset Administration Shell and Gaia-X workshop goal was to align with our two information models.

In this presentation, a map of the two services' composition models and highlights of how IDs can be mapped were made available.

The presentation also emphasised that not all AAS data is expected to be published and indexed by the Catalogue.

Under the control of the Catalogue owner, the catalog should index only the main attributes used to search and filter the dataset.

The complete set of information can be found  and utilized directly from the data endpoint location.

Looking for the workshop's notes?
Check them out here: https://community.gaia-x.eu/index.php/f/14353462

📢 Data Exchange services

============================

The Gaia-X mission intends to foster data exchanges. This is articulated as follows:
👉1 Identity & Attributes: A common identity schema and vocabulary for attributes-based access.
👉2 Data protocols:  A common set of protocol and data format, including Enterprise Integration Patterns (EIP).
👉3 Policies negotiation: A common set of Domain Specific Language (DSL) to compute access rights and usage policies.
👉4 Traceability: A mean to store and trace the negotiation results with the capacity to log intermediate realisations
👉5 Discoverability: A mean to search and find dataset based on queries and filtering.

To address these needs, an extensive list of services is required, among which, but not limited to are:

✔️A wallet to store credentials

✔️A service or extension integrated into existing data endpoints to compute policies

✔️A service to sign the computed policies result, plus additional terms & conditions is needed.

✔️A service to store the signed policies result

These  services can be implemented and provided in various ways, including and not limited to, a single component like a data connector, self-serving data infrastructure as this is  defined in a Data Mesh model.

Prototype
The Gaia-X Lab is prototyping the needs 1), 3) and 4) via the Kalg project. This is part of the Gaia-X Lab prototype contributions.

📢 Member Intranet

===========================

We are happy to announce the launch of our new branded intranet site, to help members stay up to date with Gaia-X latest news on operational, technical, membership and communication, among other elements.

Our Intranet presents a collaboration platform, knowledge and exchange channel among members to stay abreast of all the latest Gaia-X news and developments.

👉 How to join Working Groups

👉 on boarding material

👉 Get involved at the Gaia X Lab

👉 and more…

The intranet is intended for members only, and it will be updated weekly by the Gaia-X Management and Support Teams.

📢 Portfolio Request Management

============================

The Gaia-X Program and Requirements Management Process has started. With the new PMO Przemek Halub, that we welcome to the Gaia-X family we will establish a tool supported process that takes the projects, hubs and member requirements,assigns and aligns them with the Groups of the Association.. This is a major step for Gaia-X to support and adapt the business requirements in leveraging Gaia-X deliverables.

https://community.gaia-x.eu/apps/files/?dir=/Program%20Gaia-X/Requirements&fileid=14393570

📢 Tech Deep Dives

============================

Gaia-X has launched a series of Tech Deep Dives webinars that will feature technical conversations with our CTO, Pierre Gronlier.

Join us for an hour of intense, in-depth analysis surrounding important technical elements that are relevant to all Gaia-X members, clearly opening the floor to address many questions. Join us for our Tech Dives!!

The upcoming Tech Deep Dives dates are as follows:

📅 4- May 2022  Gaia X Lab

📅 25 May 22  Data Services

Additional Hackathon and Tech Dive Series will be announced throughout the year!

Stay tuned for our next newsletter!

Thank you for reading.