February 23 @ 16:00

-

17:00

CET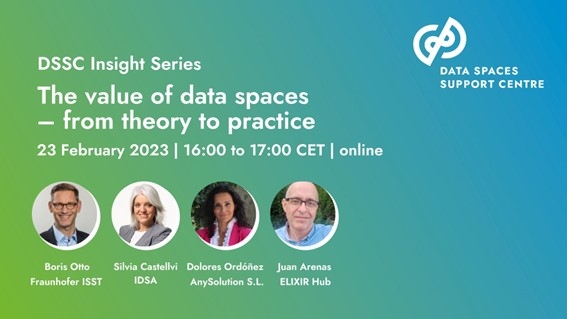 Another fascinating online webinar from the Data Space Support Centre (DSSC) Insight Series was held on 26 January. It answered several frequently asked questions, including:
What is a Data Space?
What advantages are there?
How can you participate in it?
How can the DSSC help important programmes that address pressing issues like climate change (the EU Green Deal initiative) and industrial sectors like smart manufacturing?
The Data Spaces Support Centre is an initiative funded by the European Commission as part of the Digital Europe Programme. It defines common requirements and establishes best practices and guidelines to accelerate the design and implementation of Data Spaces based on the main pillars of data sharing ecosystems such as #sovereignty, #interoperability and #trust.
DSSC explores the Data Spaces needs, defines common requirements, and establishes best practices to accelerate the design and implementation of data spaces – key elements of digital transformation – at all levels.
Do not miss out our third webinar on the 23 February. We are ready to make your data space happen!
Agenda:
"Value of Data Spaces" (Boris Otto)
"General Building Blocks for Data Spaces (OpenDEI position paper)" (Silvia Castellvi)
DSSC-related cooperation projects:" DATES – Tourism Data Space" (Dolores Ordóñez) & GDI: "Genomic Data Infrastructure Project" (Juan Arenas)
DSSC First Annual Event (Boris Otto)
Q&A