March 18, 2022 @ 11:00

-

16:20

UTC+2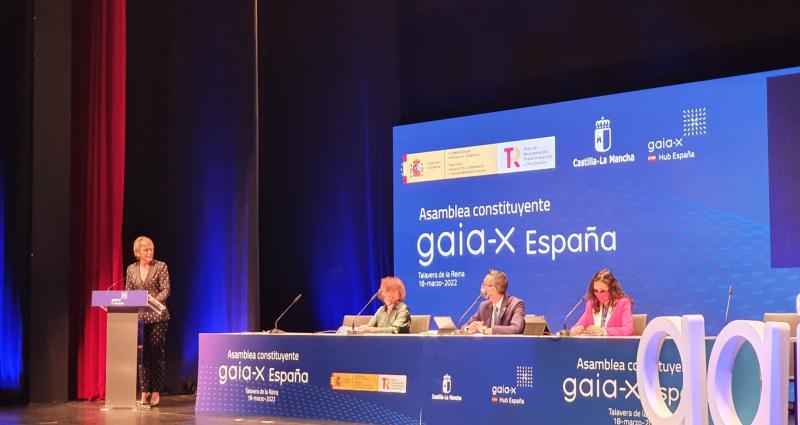 18 March 2022, in Talavera de la Reina, Castilla La Macha, the Government of Spain, through the Secretariat of State for Digitalisation and Artificial Intelligence is celebrating the Constituent Assembly of the Spanish Hub of Gaia X, seeking to support the Association's mission in data sharing and digital sovereignty and aims to ensure data availability, interoperability, portability and compliance with European standards and values.
Read the full announcement here.
Agenda:
PART I
Institutional event
11.00 – 11.05 Welcome address

Tita García Élez, mayoress of Talavera de la Reina

11.05 – 11.10 Video presentation Gaia-X España
11.10 – 11.25 Closing speeches

Nadia Calviño, First Vice-president and Minister of Economic Affairs and Digital Economic Affairs and Digital Transformation
Emiliano García-Page, President of Castile-La Mancha

11.25 – 12.00 Coffee break networking
PART II
Constituent Act
12.05 – 12.15 Opening of the Constituent Assembly

Carme Artigas, Secretary of State for Digitalisation and Artificial Intelligence
Artificial Intelligence
12.15 – 12.25 Introductory speech

Daniel Saez-Domingo, Board of Directors of Gaia-X Aisbl

12.30 – 13.00 II STRATEGIC FORUM ON DATA SOVEREIGNTY
Data as a lever for industrial competitiveness

Esther Borao, Director General ITAINNOVA
Nuria Avalos, General Manager INDESIA
Lasse Rouhiainen, Associate Professor and international keynote speaker.
Jorge Núñez, CEO Adquiver

13.00 – 13.30 Presentation of the Association and work prior to the constituent assembly.

Constituent assembly
Appointment of secretariats of the Constituent Assembly
Constituent Assembly (minor and major by age).
Reading of the statutes and approval
Representative of the headquarters of the Association of Gaia-X Spain as a member of the member of the promoter group together with other representatives of the promoter group.

13.30 – 14.15 Constitution of the Board of Directors

Presentation of candidatures for the position of candidate member
Voting

14.15 – 15.15 Break
15.15 – 15.30 Presentation on the Data Office

Alberto Palomo, Chief Data Officer of the Spanish Government

15.30 – 16.00 Presentation of voting results and nomination

Secretaries of the Constituent Assembly
Short speech by the members of the Board of Directors

16.00 – 16.10 Signing of the Founding Charter
16.10 – 16.20 Institutional Closure

Juan Alfonso Ruiz Molina, Regional Minister of Finance and Public Administrations of the Junta of Castilla-La Mancha
The event agenda in Spanish is available here.