March 18, 2022 @ 09:00

-

12:30

UTC+2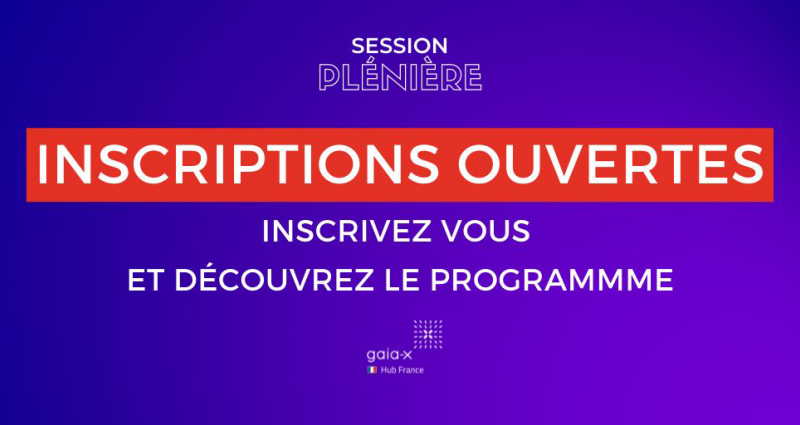 Join the first onsite Gaia-X Hub France – Plenary Session in Paris on 18 March 2022.
Read more about here.
Agenda
OPENING KEYNOTES
Bruno Le Maire (TBC), French Minister of the Economy, Finance and Recovery
Cedric O, French Secretary of State for the Digital Transition and Electronic Communications
UPDATE ON Gaia-X NEWS: ROADMAP, CHALLENGES, VISION
Hubert Tardieu, Former Chairman of the Board of Directors of the Gaia-X Association, Independent member of the Board of Directors
Francesco Bonfiglio, CEO of the Gaia-X Association
QUESTIONS & ANSWERS SESSION
EUROPEAN COMMISSION & Gaia-X: VISION, EXPECTATIONS
Pearse O'Donohue, Director General Future Networks, DG Connect, European Commission
STATUS OF SECTORAL WORKING GROUPS
Progress report, 6-month objectives, current challenges and needs.
WG ENERGY, Martine Gouriet, Director of digital uses at EDF
WG MOBILITY, Jean-Francois Cases, Amadeus SAS Director and Amadeus Group IP Director
WG EDUCATION & SKILLS, Claudio Cimelli, Project Director, Department of Strategy and Partnerships, Directorate of Digital for Education
WG FINANCE, Patrick Laurens Frings, Director of Information Systems at Caisse des Dépôts et Consignations
WG AGRICULTURE, Sebastien Picardat, Managing Director / CEO of Agdatahub
WG SMART MANUFACTURING, Ahmed Jerraya, Researcher at the CEA
WG AEROSPACE INDUSTRY, Frederic Sutter, HO Skywise Product & Service Line at Airbus
Break
WG HEALTH, Laurent Treluyer, Director of Information Systems at AP-HP and Administrator of Cigref
WG GREEN DEAL, Marie Ramon-Dare, Design and Innovation project manager at Ecolab
WG CULTURAL & CREATIVE INDUSTRIES, Louis-Cyrille Trebuchet, Director of Information Systems – Department of Technologies and Information Systems – France Télévisions
WG SEA, Alexis Nicolas, Digitalisation & AI Product Line Marketing Manager at Naval Group
QUESTIONS & ANSWERS SESSION
TRUST FRAMEWORK – Gaia-X COMPLIANCE: PURPOSE AND ARTICULATION
Pierre Gronlier, CTO of the Gaia-X Association
Gaia-X FEDERATED SERVICES OVERVIEW: GX-FS
Anne-Sophie Taillandier, Data & AI TeraLab Platform Director @ IMT
QUESTIONS & ANSWERS SESSION