March 31, 2022 @ 16:00

-

19:00

UTC+2

Hybrid Event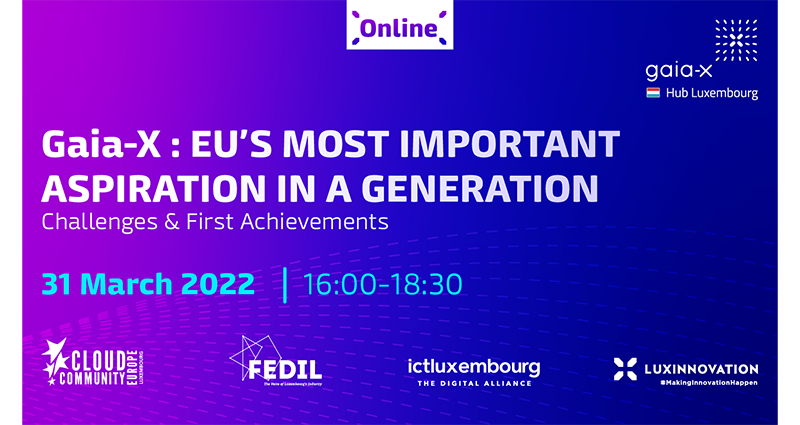 Gaia-X is aimed at building a federated, secure European data infrastructure. In just one year, the initiative has reached several important milestones in its effort to establish federated services for secure and reliable exchange of data between organisations. We are pleased to invite you personally to attend the event at the Chamber of Commerce to learn more about the progress made so far and how you can get involved.
Following its launch in early 2021, the Luxembourg Gaia-X Regional Hub acts as a facilitator for Luxembourg organisations interested in joining the Gaia-X initiative. Together with the Cloud Community Europe-Luxembourg (CCEL), FEDIL, ICT-Luxembourg and Luxinnovation, the hub invites you to attend the conference Gaia-X: EU's Most Important Aspiration In A Generation – Challenges & First Achievements.
Preliminary Agenda
Moderators: Vassilia Orfanou and Ralf Hustadt
16:00 – 16:15 – Opening – Sasha Baillie, CEO Luxinnovation
16:15 – 16:30 – Inspiring keynote address – Hubert Tardieu, Independent Board Member, ex-Chairman of the Board
16:30 – 16:45  – Gaia-X and Self Determination by Federation – Andreas Weiss, Head of Digital Business Models and Member of the Gaia-X AISBL Technical Committee Federation Services / OSS
16:45 – 17:00 – The European Landscape on the EU data economy – Pierre Chastanet, Head of Unit – Cloud & Software, DG CONNECT, European Commission
17:00 – 17:15 – Catena-X, a Gaia-X automotive user case – Oliver Ganser, Head of Programme – Data Driven Value Chain at BMW Group & Head of Consortia Catena-X and Chairman of the Board Catena-X e.V.
17:15 – 17:30 – Fintech – Dr. Jochen Papenbrock, Financial Services and Technology Developer Relationship Lead EMEA, NVIDIA GmbH
17:30 – 17:45 – Gaia-X from a national perspective – Mario Grotz, Director General for Industry, Technology and Research at Ministry of Economy
17:45 – 17:15 – Moderated Round Table – Vassilia Orfanou, CMO, Gaia-X Association: Sasha Baillie, CEO Luxinnovation, Antonietta Mastroianni, Chief Digital & IT Officer at Proximus, Dr. Carole Bruckler, Head of Digital Health Technologies, Ministry of Economy and Celine Tarraube, Adviser Digital and Innovation, FEDIL
18:15 – 18:30 – Conclusion
18:30 – 19:00 – Networking
For the onsite registration please follow this link.
The event recording is available at this link.